So when I saw this linky party at The Teacher Wife, I just HAD to join in! I am in LOVE with any and all picture books!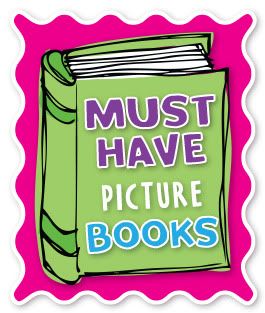 In no particular order:
Ish by Peter H. Reynolds: I love this book for the beginning of the year for kinders. Before focusing on writing, I always focus on drawing with details. This book is great for those kiddos whose pictures HAVE to be perfect! It sweetly portrays that every drawing is beautiful, even if it is an "ish" drawing.
Big Words for Little People by Jamie Lee Curtis & Laura Cornell:I am a firm believer that kinder friends don't need to use "baby" words. They are so very capable of knowing big words and using them too! So many kinders are a little afraid of big words and one of my goals has always been to make them comfortable with big words. This book is a fun, rhyming way to show them that big words are fun to learn!
The Mine-O-Saur by Sudipta Bardhan-Quallen: I know I'm not the only teacher who has experienced a few "mine-o-saurs" in the classroom! This book is a great and fun illustration of what happens when kiddos are "mine-o-saurs." It's always a MUST read at the beginning of the year for me! The first half (or so) of the book is where he acts like a "mine-o-saur." After reading this I stop and discuss how he is feeling (lonely & like he has no friends). We discuss why he feels this way and why no one wants to be his friend. Then I have the kiddos brainstorm how he can make friends. After reading the rest of the book we see the ways he does make friends! It's something my kiddos would refer to all year long!
Leo the Late Bloomer by Robert Kraus:This is a sweet, sweet story about a "late bloomer." He can't do many of the things that his friends can and gets discouraged. But by the end of the book he realizes he can do it, it just took him a little longer! LOVE the lesson in this story.
Those are just a FEW of my favorites. I am guilty of having a very LARGE children's book collection! :)
Enjoy! And check out the other links in this linky party…some incredible books! I'd love to hear what your favorites are too! Leave a comment and share :)
DON'T FORGET: 500 FOLLOWER GIVEAWAY ENDS TONIGHT {click on the image below to enter!}